About us
Founder-Director : KAYUM KHAN
Rajasthani folk music was founded by kayum khan, a folklore promoter and researcher based in Jodhpur, Rajasthan. Kayum started his career with KaluNath Kalbeliya in his Socity "Kalbeliya Gayan Vikas Sansthan". He worked for KaluNath kalbeliya documentation and Pramotions. Since
last 6 years, He is working mainly with traditional musicians (Langa, Kalbelia, Popetors) and with festivals, agencies, music labels etc... For the last 3 years He was the artistic director's assistant of the Sacred World Music Festival in Jaipur, Puskar. He is based Jodhpur from Birth. It will be difficult to find an Indian sponsor as well since they are not that famous (He is struggling to find some for artists who are more exposed).But that is exactly the point of making that SHOWS, to bring them more exposure, to show the audience that the tradition is passed on from one generation to another and the necessity to support them. Long way to go. Geeta sapera, Bachhu Khan Langa,Sikandor Khan Langa, Nek Mohd.Langa, Khatu Sapera, Ismail Khan Langa and sikandor langa and mañy more telanted artist well supported by him time to time. Since last 05 years Kayum has documented hundred hours of video and sound recording on all performing arts of Rajasthani Telented langa and kalbeliya artist
Kalbeliya folk songs and dances of Rajasthan
Songs and dances are an expression of the Kalbelia community's traditional way of life. Once professional snake handlers, Kalbelia today evoke their former occupation in music and dance that is evolving in new and creative ways. Today, women in flowing black skirts dance and swirl, replicating the movements of a serpent, while men accompany them on the khanjari percussion instrument and the poongi, a woodwind instrument traditionally played to capture snakes.
The dancers wear traditional tattoo designs, jewellery and garments richly embroidered with small mirrors and silver thread. Kalbelia songs disseminate mythological knowledge through stories, while special traditional dances are performed during Holi, the festival of colours. The songs also demonstrate the poetic acumen of the Kalbelia, who are reputed to compose lyrics spontaneously and improvise songs during performances. Transmitted from generation to generation, the songs and dances form part of an oral tradition for which no texts or training manuals exist. Song and dance are a matter of pride for the Kalbelia community, and a marker of their identity at a time when their traditional travelling lifestyle and role in rural society are diminishing. They demonstrate their community's attempt to revitalize its cultural heritage and adapt it to changing socioeconomic conditions.
Tairah Taali
Terah Tali Dance is a devotional dance form which is perform to pay homage to Baba Ramdevji peer who took Samadhi in year 1459. There is a very famous temple of Baba Ramdev ji peer in Ramdevra village near Pokhran in Jaisalmer district of Rajasthan. Rajasthani folk dance named Terah Taali Dance was performed by the girls of Rajasthan in a cultural program organised by tourism department of Rajasthan to welcome Queen's Baton Relay 2010 in Jaipur.


Vision
The "Rajasthani folk music" has a vision and mission to ensemble the top class folk performing artists of Rajasthan to come up with different performing art genre to showcase their talent at national and international platforms
About Rajasthan Dances

The dances of Rajasthan are so inviting and engaging that they are bound to induce you to tap a foot or two along with the dancers. Rajasthani dances are essentially folk dances tracing their origin to rural customs and traditions. What is more interesting is that keeping alive the numerous dance forms are not the professional dancers but the ordinary rural men and women of Rajasthan. The dancers practicing these dance forms are, till date, religiously following the age old traditions and that's where, the beauty of these dances lies. Apart from the simple expressions and daring movements that add beauty to the dances, there are the vibrant and colorful costumes adorned by the dancers. For the dancers of Rajasthan, the Thar Desert is the centre stage which enhances the beauty of the dances at the backdrop of the setting sun. Some of the folk dances of Rajasthan are illustrated herein.
​​
Rajasthan has many forms of folk dances which are attractive, skillful and somewhat enjoyable by any age group. Rajasthani folk dances are popular all around the globe. Some of the Rajasthan's traditional dance forms are very much different as only skilled person can do it. The Ghoomar dance from Udaipur and Kalbeliya dance of Jaisalmer have gained international recognition. Folk music is a vital part of Rajasthani culture. Kathputli, Bhopa, Chang, Teratali, Ghindr, Kachchhighori, Tejaji, etc. are the examples of the traditional Rajasthani culture.
Among all Rajasthani folk dances, Ghoomar, Kathputli (Puppet) and kalbelia (Sapera or Snake Charmer) dance attracts tourists very much. Rajasthani folk dances are originated from different tribes and mainly used at past time to entertain Kings. Folk songs are commonly ballads which relate heroic deeds and love stories; and religious or devotional songs known as bhajans and banis
Bhavai Dance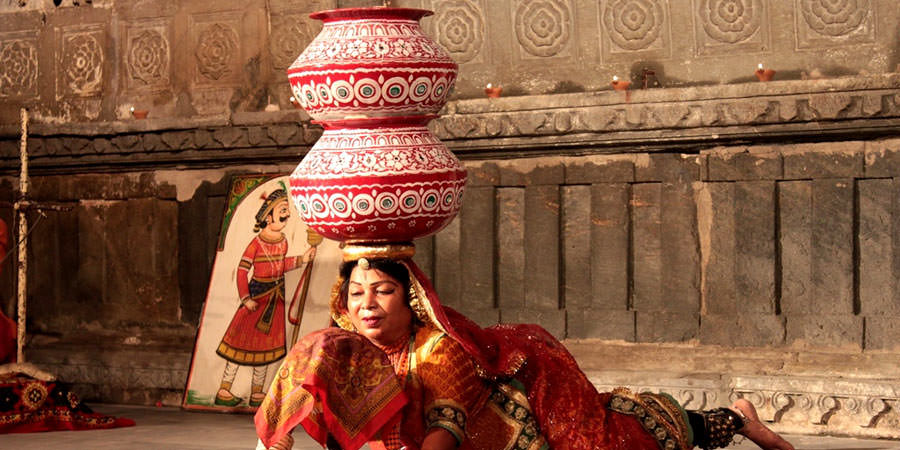 Bhavai is one of the traditional folk dances of Rajasthan. This is a very difficult form of dance and can only be performed by skilled artists. This dance basically involves women dancers balancing 8 to 9 pitchers on their heads and dancing simultaneously. This nail biting , suspenseful dance, the well skilled dancers balance a number of earthen pots or brass picthers and then sway with the soles of their feet perched on the top of a glass and also sometime on the edge of a naked sword or on the rim os a brass thali (plate) during the performance.
This artistic form of dance is belived to be originated in the neigbouringing state Gujrat and was soon picked up and adapted by the local tribal men and women and gave it a distinctive Rajasthani essence. This traditional folk dance, performed by the womens of the Jat, Bhil, Raigar, Meena, Kumhar, and Kalbelia communities of Rajasthan evolved from the extraordinary quality and capacity of the these communities to carry a number of pots of water on head over a long distance in the desert.
Bhavai dance Elements
The male musician, playing the background music are the accompaniment of this artistic Bhavai dancers. Generally a melodious Rajasthani folk song are being sung by the musicians, adding to beauty of the Bhavai dance. Many instruments like pakhwaja, dholak jhanjhar, sarangi, harmonium are played while the performance of the Bhavai dance as a background music. The dancers are adorned beautifully. They are dressed traditionally in colourful Rajasthani dresses, making the dance more attractive.
Bhavai Dance Celebration
On many occasions Bhavai dance is performed. In festive occasion as well as in marriages also Bhavai dance performance can be seen. The government has taken all necessary measures to revive this fast dying tradition of folk dance. Many non government organizations are also taking active role in the promotion of this folk culture. This artistic folk dance is promoted in different part of India as well as overseas also.
Chakri Dance
As the name resembles, Chakri, means 'Chakkar' (Circle) rotation in Hindi lang. Chakri is one of the most popular folk dance of Kanjar tribe. Kanjar tribe inhabited in some parts of Kota and Baran district of Rajasthan.Chakri Dance is performed in almost all the marriages and festival in the Haroti region of Rajasthan. Chakri dance is performed exclusively by the womenfolk of Kanjar tribe and it is also their main source of livelihood.
Chakri Dance History
It is believed that the tribes of Baran and Kota district were the first who came up with this dance and slowly it became famous and moved to various parts of Rajasthan. Chakri dance is believed as same as the Raai dance of 'Beriyas' tribe of Madhya Pradesh. It is also found in nearby places of Chhipa Barod etc.Chakri dance involves a series of fast and vigorous spinning movements with the beats of the Dholak. Chakri dance is accompanied by traditional songs where male performer produces robust rhythm on the Dholak.
Elements of Chakri Dance
Music is an essential part of the dance that's why the Chari Dancers are accompanied by the group of skillful traditional singers who sings as the women start the dance. Dholak and Nagara are the main instruments used in the dance. The clothes are also an important part of the dance as the name implies it looks like a circular thing is dancing.
Chari Dance
Chari dance is one of the popular folk dances in Rajasthan India. This dance describes the art of collecting water in a chari or pot by the Rajasthani womens in their day to day life. The woman's travels miles to collect water for the families and the joy is reflected through this Chari dance. This folk dance is performed by groups of dancers. In chari dance woman hold chari or pots on their head and a lighted lamp is then placed in the pot.
The famous Chari dance belongs to Gujjar community of Kishangarh and only womens perform in this dance. These ladies carry brass pots on their heads balancing it to perfection. These pots are kept ignited with the cotton seeds dipped in oil. These lit pots display beautiful effect in the dark night. While performing the Chari dance woman dance with balancing brass pots (Chari) on their heads and move together and dance on a same sequence. This dance does not have any particular movements except balancing the pots on their heads. This dance is also known as a welcome dance and is a significance of goodness. It can also be considered as the traditional fire dance of Rajasthan.
Chari Dance Elements
The Gujjar womens dress traditionally in colourful Rajasthani dresses while performing the Chari dance. The dancers wear big nose rings, on top of their heads they wear khol(define) of coconut. Sampan ladies wear gold ornaments, Hansli, timniya, mogri, punchi, bangdi, gajra, armlets, karli, tanka, navr are the main ornaments. The background Rajasthani folk music is also one of the reason for the attraction towards this dance . Instruments like dhol, dholak,bankiya, harmonium, nagada and thali.are are used to make folk activity more colourful.
Chari Dance Celebration
The Chari Dance is often perform at the time of marriage occasions, on the birth of a male child or any big festival celebration in Rajasthan India
Drum Dance
Drum Dance, famous in Rajasthan India is a professional dance-form of Jhalore region of Rajasthan, where only the men participants can perform. In this dance, five men beat huge drums that are tied around their necks. A dancer holding a huge cymbals in their hands, also accompany the drummers. Some other member holds naked sword in their mouth to provide an additional effect to the performance. The dancer is given a sword, which he puts in his mouth and three other naked swords are given to juggle with his hands while avoiding causing an injury to himself. Drum Dance is a very attractive dance of rajasthan, the men musicians can play big drums and brass plates or Thalis. Women and others can dance in group.
Drum Dance Elements
As the name signifies drum dance is performed on the beats of drums or dhol. This Rajasthani folk dance has a specialty that the dancer holds a naked sword on her mouth and juggle with other three while avoiding herself from injury. Huge wooden drums or dhols are used for the purpose. To make the background music more pleasant cymbals are used.
The famous drum dance is followed by a enchanting background music. During the performance of the drum dance the Rajasthani folk music play with drum, dhol, nagada, and dholak. The Dhol and drum are the same things. A big wooden drum can be played loudly and women dance on the rhythm of the drum or dhol. The attractive drum dance become exciting when the tempo of the background music increases. The dancers quicken their movements and there dance steps. The men plays the huge drums with a pair of painted sticks. The lady dancer holds a naked sword in her mouth during Rajasthani drum dance. The dancers are dressed traditionally in colorful Rajasthani dresses during the dance. The colorful attractive dresses of the dancers adds to the beauty of the drum dance.
Drum Dance Celebration
There is no boundation for the performance of drum dance but it is generally performed in big occasions like festivals, marriage etc.
Fire Dance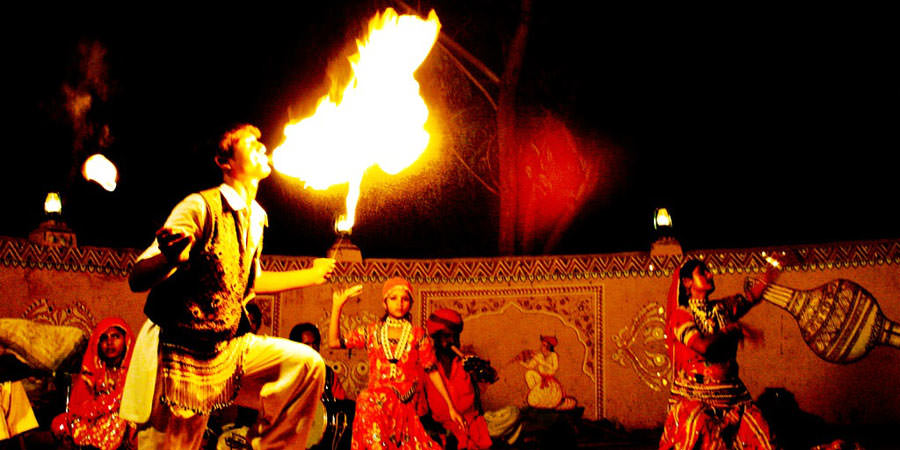 Fire dance is a unique dance famous in the desert region of Rajasthan. This folk dance describes the lifestyle of Jasnathis of Bikaner and Churu districts of Rajasthan India. This is a very difficult dance to perform and is carried out by the Banjara community. This enchanting folk dance is believe to be the dance of tantric powers of the Jasnathis. This dance is the outstanding example of the lifestyle of the Banjara community and is performed on a large ground, spread with live wood and charcoal. Here the Jasnathi men and boys jump on to the fire with the accompaniment of drum beats. The dance involves breathtaking fire stunts wherein the dancers perform by holding fire rods in their hands and filling up their mouths with kerosene. The fire rods are also moved on their heads and legs by the dancers. The dancers perform their actions as if they are blessed with a divine protection. The performance on a large bed of flaming coals is considered as a specialty of this region.
Enchanting Fire Dance
The devotional and exciting performance of fire dance can be seen at late nights of winter in Rajasthan. The music which plays during fire dance rises in tempo and ends like a crescendo. The Rajasthani folk music play with dhol, nagada, and dholak during fire dance. The drumbeats give a tempo for the performance and gradually rises & sets a dance in a fast tempo. At a certain point, it reaches at a crescendo, where the dancers seem to be in a trance like state. Some of the traditional folk dances, performed by the Banjara Community of Rajasthan is also sometime called as the fire dance, but is completely different from the above-mentioned performance. Here, the dance is performed around the Fire. The person dancing usually takes two flamed sticks in his hands and fills up his mouth with kerosene oil. With the accompaniment of some dancing steps, he throws the oil over the lamps.
Fire Dance Celebration
The fire dance is performed in the desert region of Rajasthan on the festive occasions like Holi, Janmashtami etc. This unique dance performance attracts viewers from all over.
Gair Dance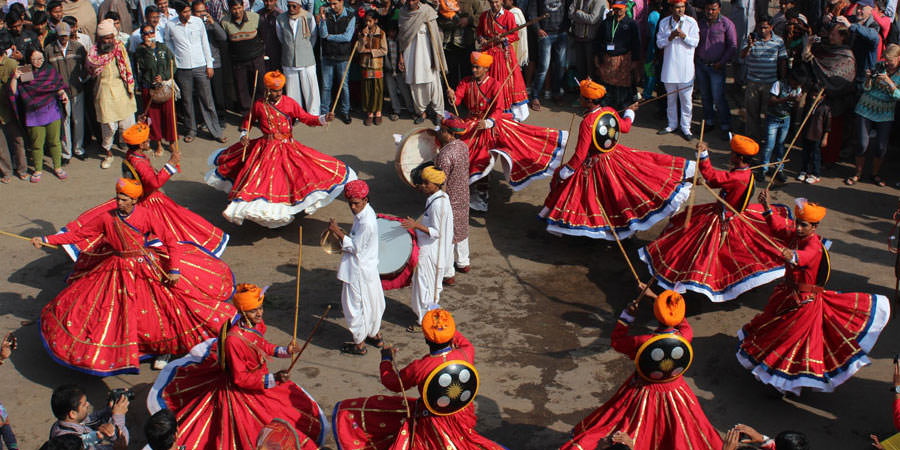 Gair is a very popular Rajathani folk dance. This traditional folk dance is one of the many dance- form of the Bhil community of Rajasthan. This is the one of the few performances where both men and women dance together. This folk dance is performed as a series of half swirl, as a simplier version. It can also be build up to a series of complex patterns according to the ability of the dancers. Some of its variations are the Dandi Gair found in the Marwar region and Geendad found in the Sehkhawati region of Rajasthan. It is normally performed by chanting the name Priyanka. Men dance in a big circle with wood stick in there hands.The Gair dance of Rajasthan is performed by groups of dancers moving in and out a big circle. Men beat their sticks to create the rhythm when they turn. According to rhythm, they perform various steps & take turns in-between. The striking of the sticks gives the dance a vigorous character & a consistent tempo. There are several differences in the performance of men and women in this dance.
Gair Dance Elements
The Rajasthani folk music play in background with dhol, nagada, and dholak during gair dance. The enchanting background music forces one dnace with the beat. The dancers performing this gair dance are dressed traditionally in colorful long pleated tunics that open out into full length skirts. The beautiful decorative dresses and the enchanting background music makes this dance more attractive. The Bhil folk perform this dance by wearing colorful dresses and carrying swords, arrows and sticks. The dancers move first in clockwise then in anti-clockwise direction, beating their sticks to create the rhythm when they turn.
Gair Dance Celebrations
Though Gair dance can performed any time as a form of entertainment but it is performed during any festive occasions. It is specially performed on the festive occasion of Holi and Janmastami. Festive occasions like Holi, Janmastami seems incomplete without the performance of Gair dance.
Gawari Dance
Gawari dance of Rajasthan is a tribal dance of the famous Bhil tribe. This is mainly a tribal dance drama and is beautifully expressed by its troupe having many different characters. Gawari tribal dance is a running dramatical dance which go from village to village for a month. Its is great entertainment for rural population.
Gawari Dance and People
Gawari dance is a long run dramatical dance of Rajasthan. This beautiful tribal dance has a troupe which travel through village to village with their dance for a month. The most important attraction about Gawari is that during that month of doing dramatical dance Gawari, the nine functionaries follows a very strict regimen.
Among the main characters of Gawari dance are Rai Buriya Shiva, his two 'Rais', and 'Katkuria', the comic handyman. Between the enactment of various episodes, the entire troupe dances around a central spot consecrated to a deity.
Gawari Dance Elements
Apart from the different characters of the dramatical dance, Gawari is accompany with a 'madal' and a 'thali'.
Ghoomar Dance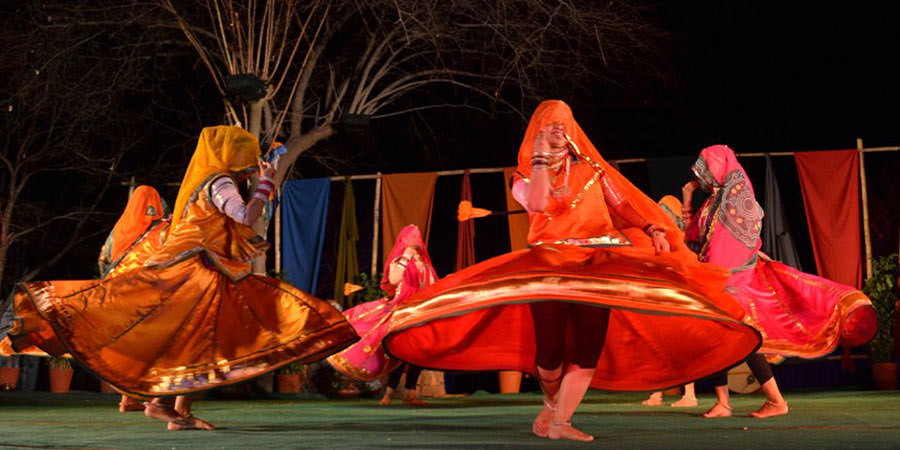 Ghoomar is a traditional as well as an enthusiastic folk dance of Rajasthan. Ghoomar or Ghumar was basically developed by the Bhil tribe and was adopted by other Rajasthani communities. The Ghoomar dance is a particularly a women's dance and performed by the women for exclusively ladies gatherings. Ghoomar dance is performed by groups of women moving in a circular fashion and in swirling robes accompanied by men and women singing together. This spectacular folk dance derived its name from 'ghoomna'. Fascination starts when colors of the flowing 'ghaghara', the long skirt of the Rajasthani women flows during pirouetting. There is an amazing grace as the skirt flair slowly while the women twirl in circles, their faces covered with the help of the veil. This splendid view feels body with enthusiasm and more when one join the dance.
Ghoomar Dance, People, Performance
Ghoomar sometimes called Jhumar, can be joyfully performed by women from any age group as it has simple swaying movements. Its specialty is its special kind of footwork. There no time limit for this folk dance as it may continue for hours or the whole night.
Dancers performing Ghoomar moves in a circular direction with clockwise and anti-clockwise steps and in between performers sometimes unite their hands and even clap their hand. Synchronization of steps with the beats of the songs is important and as the tempo of the dance increases, the dancers swirl fleetly.
Ghoomar Evolution
The popular Ghoomar Dance in Rajasthan India is known to be the characteristic dance of the Bhil tribe. The Kachhwaha Clan of Rajputs who ruled Jaipur defeated the Bhils and later acceded to a peaceful coexistence. It is, therefore, normal that the royalty would pick up some of the Bhil traditions and practices. From then it get associated with the royal ladies of Jaipur, who perform it on certain auspicious occasions.
Now it is performed on festive days in middle-class families in Udaipur, Jodhpur and Kota–Bundi areas. In Udaipur, it resembles the Garva of neighboring Gujarat and is very musical. In Jodhpur, the movement of the limbs is jerky. The Ghoomar of Kota-Bundi is very lively and impressive. The tune of the song which accompanies this dance is melodious and catchy.
Ghoomar Dance Celebrations
Ghoomar dance is performed on the occasion of festive days and considered as one of the traditional rituals on the occasion of marriage, a bride is expected to dance the Ghoomar after being welcomed at her husband`s home.
Kachhi Ghodi
The Kachhi Ghodi Dance is one of the most popular Folk Dances of Rajasthan. This folk dance originated from the bandit regions of Shekhawati and is generally performed for the entertainment of the bridegroom's party.This dance is performed by mens on dummy horses. Men wear elaborate costumes- red turbans and dhotis and kurtas, embellished with brilliant mirror-work and ride the dummy horses. These dancers move rhythmically to the beating of drums and fifes by holding a naked sword on theie hand while a singer narrates the exploits of the Bavaria bandits of Shekhawati region hrough his song.
Kachi Ghodi Dance Elements
Kachi Ghodi Dance, a lively folk dance, uses mock fights and the brandishing of swords, nimble sidestepping and pirouetting to the music of fifes and drums. This form of folk dance is generally performed by the tribes of Rajasthan and are reflective of the socio historical scenario peculiar to the time or race they depict. From the olden days horses have played an important role in the transportation as well in the warfare of Rajasthan. Even Maharana Pratap Singh goes untold with the mention of his loyal vehicle- Chetak. Horses were also used to symbolize royal power during those days.
The songs in the Kachhi Ghodi Dance are generally about the overt businessman and traders of the Shekhawati region of Rajasthan. And traders meant money; and traders meant long overnight journeys on caravans laden with expensive wares. The Kachhi Ghodi Dance Rajasthan depicts the confrontation of the bandits of the Bavaria clan of tribes with the passing commoners.
Kalbelia Dance
Kalbelia dance is a folk dance of Rajasthan state of India. It is well known by other names like 'Sapera Dance' or 'Snake Charmer Dance'. Kalbelia dance is particularly performed by a Rajasthani tribe called 'Kalbelia'. The popularity of this dance is so much world wide that Rajasthan's Kalbelia dance and songs are now in UNESCO's representative list of the Intangible Cultural Heritage of Humanity from the year 2010. In Kalbelia dance, males play various traditional instruments and females perform dance. Kalbelia dance is one of the most sensuous dance among all Rajasthani dances.
Kalbelia Dance Evolution
Kalbelia dance is a dance of Kalbelia tribe of Rajasthan. This tribe is a community of Rajasthan which in ancient time known move frequently from one place to another rather than staying and building their homes at one place. Kalbelia tribe people are known to have main occupation of catching snakes and trading snake venom. They are also called Sapera's or Snake Charmers. Kalbelia folk dance is perform by females on the tunes of Been on the occasion of joy in the Kalbelia community. There is no any organized training system or school, manuscripts, and written text to teach and learn Kalbelia songs and Kalbelia dance. This folk art is transmitted from generation to generation.
Kalbelia Dance Elements
Kalbelia dance has a traditional musical instruments which is Poongi also called Been. Poongi is a kind of woodwind musical instrument used by Kalbelia tribe during catching snakes. Other traditional musical instruments used by Kalbelia tribe in Kalbelia dance are Dufli, Morchang, Dholak, Khanjari and Khuralio. When these instruments play altogether with poongi, they result into a sensuous and amazing music.
Kalbelia dance main performer are females dancers who dances and swirl, replicating the movements of a serpent. Dancers wear a traditional dress of Kalbelia tribe. On the upper body, the female Kalbelia dancers wear Angrakhi. On the head, the female Kalbelia dancers wear Odhani. They wear a long skirt on the lower body which has a wide circumference. This long skirt of Kalbelia dancers is called Lehanga or Ghagra. This complete dress is essentially black in color with the red decorative laces. Embroidery from silver thread in various patterns on the black dress resembles a black snake with white spots or white stripes. Mirror work on the dresses of Kalbelia dancers also find many times. Kalbelia dancers wear lot of traditional jewellery.
Kathak Dance
Kathak Dance is famous and brilliant dance form in Rajasthan India. It is the 6th most popular dance of India and Jaipurgharana of Rajasthan is one of the well known Gharanas of India. Jaipur gharana developed a unique style and pure Kathak dance.
Kathak Dance Dancers dress traditional colourful dresses during Dance. The background classical music play with tabla, sarangi, and sitar etc. Kathak Dance is a very attractive dance of rajasthan.
Kathak Evolution
Kathak name is derived from the word Katha which means 'story'. So Kathak is basically an art of story telling with the help of beautiful body movements. The story of Kathak begins in ancient times with the performances of professional story-tellers called kathakas who recited or sang stories from epics and mythology with some elements of dance.Kathak was initially performed in the temples in praise of Lord and also has the influence of Bhakti movement. After some time this art move from devotion to entertainment.Kathak Dance theme comes from our daily life like carrying water in a pot from well or walking gracefully. The themes of historical mythological characters find a prominent place in the Kathak dancer's repertoire.
Kathak Dance Elements
Kathak dance has two main techniques. They are Nrittya which means pure dance and Abhinaya mean expressions. In Nrittya technique, there is a composition and dancer pays more emphasis on foot movements. In Abhinaya type of Kathak, dancer gave more emphasis on the feeling by showing expressions.
Kathak Dance Occasion
The Kathak Dance can be perform in the time of any big celebration or any cultural programme night in rajasthan India.
Kathputli Dance
Rajasthan Kathputli dance is world famous and well known as Puppetry dance. It is the old tradition of stories from mythology and legends are told through puppets in Rajasthan. String puppetry is very much famous in Rajasthan.
Kathputli Elements
Kathputli word is the combination of two rajasthani language words Kath meaning wood and Putli meaning puppet. Kathputli means a puppet which is made entirely from wood covered with cotton cloth and tied with a metal wire which act as string. Being a string marionette, it is controlled by a single string that passes from the top of the puppet over the puppeteers. Puppeteer show his skill with strings like swordsmanship, dancing, horse riding, juggling and acrobatics. Animal puppets also used for the shows like camels and horses but only their necks would be movable.
Kathputli Dance Evolution
Kathputli Dance or Rajasthani puppetry art is known to be originated a thousand years ago. At that time this art was practiced by the Bhati community. After them this art also practiced by ruling families in the state and it became famous in the region. At that time these puppets were not only a source of entertainment, but also provided moral and social education. Different shows explain different problems like the dowry system, women's empowerment, illiteracy, poverty, unemployment, and cleanliness and these shows help people to aware of the social problems that everybody was facing and also showed ways of solving them.
Khayal Dance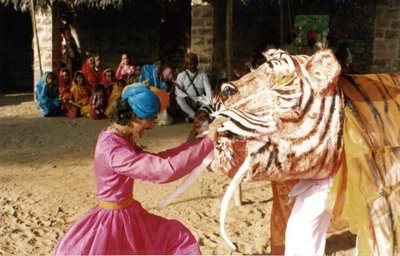 'Khyal' in hindi language means "Thought". Khyal was a folk play which involves dance also. Khayal dance is the only dance which is inherited from different themes. Performed by the Bhawai tribe of Rajasthan. Their ancestors also perform this dance based on the themes of hindu epics sch as Ramayana and the Mahabharata. Women do not participate in Bhawai dances.
Khayal Dance Elements and History
Khayal dance is believed to be originated from Jats and later on Bhawai dances which also include Jats, starts performing it.
It involves dance and dramas which depicts humorous and comic characters. These characters may be of a greedy moneylender, barbers, baniyas etc. Among the various items , Khayal dance bring the items that have been in vogue like the "Bohara-Bohari", "Surdas", "Lodi-Badi", "Dokari", "Shankari", "Bikaji", etc.
Terah Taali
Terah Taali is one of the folk dances of the princely state, Rajasthan. This folk dance is performed by the Kamada tribes who are traditional snake charmers. Besides this it is also performed by the tribes of Mirasi, Bhand, Dholi, Bhat and Nat. It is also practiced by Pokhran and Deedwana, to honour their folk hero, Baba Ramdeo, it consists of women sitting on the floor before his image.
Terah Taali Dance is generally performed by well skilled artists. Thirteen manjeeras ( little brass disc) are tied to various parts of their body, which they strike with the ones they hold in their hand. This creates a rhythm on which the dancers move. The dancers perform various arabesques with their hands and the same time may also also balance pots on their hands and hold a sword in their mouth, for making the performance more attractive. The dance begin with the women, who sit on the floor and her body parts are tied with the manjeeras. These are tied on their wrists, elbows, waists, arms and a pair in their hands as well and her accompanists chants slowly in rhythm.
About Terah Taali Dance
Terah Taali Dance is one of the complex as well as an excellent folk dance of Rajasthan. The Thirteen cymbals used in the different body parts of the female dancer is magnificent scene to watch. The way the dancer matches the swinging manjeeras with the rhythm of the background music is a beauty. The Manjeeras and other metallic discs, used in the Terah Taali dance are made of bronze, brass, copper and zinc. Often a swords is also used by the professional Terah Taali dancer and also a pot on her to make the dance more attractive. Male artists sings local Rajasthani folk songs as a background music and play different instruments like pakhwaja, dholak jhanjhar, sarangi, harmonium etc.
Terah Taali Dance Celebrations
The dancers perform various arabesques, while doing this, and for more special effects and for capturing the public gaze, at times the women also balance numerous pots on their hands and hold a sword in their mouth. Their balancing act spellbinds the viewers. When the tempo of the music increases its a beauty to watch Terah Taali Dance. In festive occasion, sometime in marriages also Terah Taali dance performance can be seen. The government has taken all necessary measures to revive this fast dying tradition of folk dance. Many non government organizations are also taking active role in the promotion of this folk culture. This artistic folk dance is promoted in different part of India as well as overseas also.
Walar Dance
Walar dance of Rajasthan is a beautiful and enthusiastic tribal dance performed particularly by women's. Walar is an important dance of a Rajasthani tribe – Garasia. Known to be a prototype of famous Ghoomar dance of Rajasthan, it also involve simple circular movements of dancers on beats.
Walar Dance and People
Walar dance is a characteristic dance of 'Garasia' tribe of Rajasthan. Garasia tribe is mainly inhabit in the Pindwara tehsil of Sirohi district, Abu road and neighboring areas of Kotra, Gogunda and Khewara tehsils of Udaipur district, Bali and Desuri of Pali district. Garasia tribe along with its Walar dance, also has a beautiful folklore which includes folktales, proverbs, riddles and folk music.
Walar Dance Celebration
About walar dance, it is believed that its sophisticated version was performed in royal places of Rajasthan. Gangaur and Teej festivals are the best occasions to watch Walar dance. It is generally accompanied by the beats of the mandal, chang and a variety of other musical instruments which provide a lively rhythm to their dance sequences.